RECITALS
Recitals are not final exams, but they do serve a valuable purpose in your child's musical development.
They will be held frequently with the intent of achieving several individual goals.
In preparing for a recital, practicing is more focused and productive.
They provide opportunities for family involvement and positive reinforcement.
Attending recitals and concerts is the only way to teach appropriate behavior in a formal setting. As a parent, it is expected that you will monitor your children and help them be respectful of those performing.
While not intended to be a stressful situation, learning to play under the pressure of an audience takes one's playing capacity to the next level. It is one thing to play well at home or at a lesson and quite another to play well in public.
Monitoring personal development made, not based on comparison to others, provides a tangible progress report.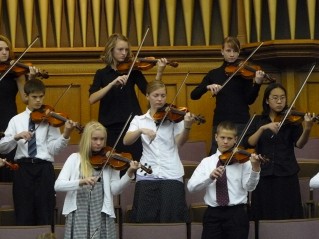 Participation on recitals is expected. Students that are unprepared will not be invited to participate. Dates will be marked on the calendars well in advance. Please plan on attending.
Each semester there are three recitals, two are Solo Recitals and one is a Semester Recital.
Solo Recitals are where students play individually. For younger students, participation at one of these recitals is required. Older students will be expected to perform on both of them.
All students are expected to participate in the Semester Recital. At this recital, all groups perform selections studied throughout the semester, piano students play solos, and a handful of advanced students will be invited to play solo pieces. Dates for Semester Recitals will be distributed months in advance and are mandatory for all Miller Violin Studio students.
CONCERT ETIQUETTE
Everyone participating on a recital should be there to hear the first performer and should stay until the last performer. It is inappropriate to arrive or leave in the middle of the recital. Arriving late or leaving early is distracting for the audience and especially for those performing. It is discourteous and diminishes the experience for the student. Do not ask to be placed at the beginning or end of the recital. Sunday dress is appropriate not only for the performers, but also for their families as well. Students participating in Semester Recitals should wear semi-formal black and/or white. Small children are welcome to attend, but should be closely supervised and taken out if necessary.